Link expired
A few people have reported being asked for a password to unzip this file.
I do not have a password on it.
I think the problem might be some people might have a firewall protection program that is doing it since it does not happen to everyone. I have an alternative link that might help. I do promise you that if you like my papers you will LOVE this.
Alternative download for
Trick or Treat freebie
Well the trick was almost on me, last night my internet went down, after about 6 hours. I was starting to panic a little, I was afraid I was going to have to take my DH's computer and go out in the middle of the night to find some place that had wi-fi so I could upload my treats for you. What a relief when it came back on.
Phreephorm is the one that put all of this together, it was all her idea and she has done such a great job, I absolutely LOVE her knockers. BTW, it is her birthday today so be sure to say "Happy Birthday" when you stop by her blog. To celebrate she has her whole store on sale.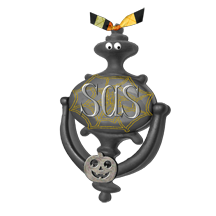 Click on the door knocker to visit your next mysterious destination!