Here is the first part of my October freebie, I was tempted to do fall colors because I love those colors but I ended up making a fall colored newsletter freebie for you instead.
We have so many exciting things going on at SAS this week. Yesterday was the start of our
SAS-y Princess contest
. Submit your links to layouts made from SAS products
here
and at the end of the month the designers will choose who will be the SAS Princess for the next month, the winner will also receive a
$20 store coupon
. We have also started an
Honor our Heroes gallery
, to honor the men and women that protect and serve, from firefighters to military personal.
All of the designers have been busy putting together some spectacular products so be sure to go by the store and check them out. PillowGirl and Sherah have put together the most awesome kit I have ever seen, this kit has
44 papers and almost 100 unique
elements in a subtle fall color palette that will go with so much. You don't want to miss out on this one.
Our newsletter goes out tomorrow and I have a sneak peek of my freebie that you can only get through the newsletter. If you have not registered in the forum yet then you probably are not on our mailing list. I will be sending the newsletter out in the early afternoon Wednesday so you still have time to register (until noon central, Wednesday, all you have to do is register as a forum user and leave the box checked to receive mail from the administrator.
I hope you enjoy this month's kit, I had a hard time deciding what pieces to put in the first download because I have so many neat ones made so I gave you a little taste of the various elements, I will be posting a new part twice a week.
Enjoy!
Newsletter Freebie
Delicious Berry Blue Part 1
Sorry, Link Disabled
Feelin Thankful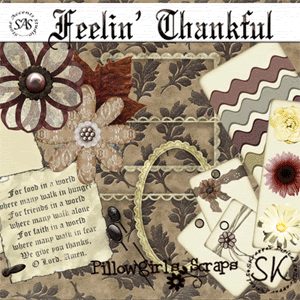 Click
Here
to Purchase Feelin Thankful